As we face an increasing array of hard-to-treat multidrug resistant infections, it's become vital to ask: is there a better way to optimize antibiotic prescribing? The answer: a resounding yes!
In the current context of increasing antimicrobial resistance, numerous antimicrobial stewardship initiatives have been implemented, aimed at sustaining existing antimicrobial resources, decreasing risks of adverse effects for patients, improving outcomes and survival rates, and reducing healthcare costs.
Optimized antimicrobial prescribing will ultimately result in patients getting better faster. It will also potentially limit the emergence of drug-resistant pathogens.
The importance of susceptibility testing in helping select the most appropriate drug according to the microorganism has become clear. It is also understood that consolidating susceptibility test results – cumulative antimicrobial susceptibility testing (cAST) reports – effectively supports the choice of empiric therapies according to the susceptibility testing profiles observed in each institution.
The role of Therapeutic Drug Monitoring (TDM) combined with the determination of Minimal Inhibitory Concentrations (MIC) as a key component of optimized prescribing within antimicrobial stewardship initiatives, is now gaining recognition.

Antimicrobial choice and dosing can be further improved with better use of TDM and MICs.

By taking into account the interactions between the host, the drug and the pathogen, the MIC and pharmacokinetic/pharmacodynamic (PK/PD) information can efficiently support antimicrobial choice and dosing. Unfortunately, current practice often does not make full use of our knowledge of PK/PD.
The implementation of personalized antibiotic therapy based on TDM and MIC is widely used for the most critically ill patients, such as immunocompromised patients or patients with severe sepsis, septic shock or organ failure; for treating multidrug-resistant organisms or infection sites that receive only a low diffusion of antibiotics; or when prescribing antibiotics with a low therapeutic index, such as vancomycin or aminoglycosides.
However, it is less frequently used for other drugs such as beta-lactams or fluoroquinolones, for organisms with elevated MICs, or for patients with altered physiology (e.g. the elderly or those with obesity or organ dysfunction). This is despite it having been clearly demonstrated that, in such situations, suboptimal dosing can lead to therapeutic failure or toxicity as well as increased morbidity and mortality[i].
Are you looking for ways to optimize antimicrobial therapy?
Are you unfamiliar with PK/PD, TDM and MIC… and want to know more about what these acronyms mean and how they can be used to better treat the patient using a personalized approach?
Would you like to learn more about how MICs and TDM can help adapt patient dosing?
To help answer these questions, bioMérieux now has a new medical education booklet written by a leading expert on the topic, Prof. Jason Roberts, professor of medicine and pharmacy at the University of Queensland, Brisbane, Australia.
"Antimicrobial prescribing: optimization through drug dosing and MIC."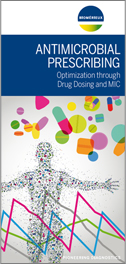 Written for microbiologists and other healthcare professionals, this practical guide has been created to help you understand how MICs and PK/PD, as part of your stewardship program, can play an important role in antimicrobial dosing practices. Through short texts, illustrations, graphs and clinical cases it explains the relevance of dose optimization, the usefulness of MICs, and how to implement TDM into daily practice.
You can also ask your local bioMérieux representative printed copies.
---
[i] van Lent-Evers NA et al. Impact of goal-oriented and model-based clinical pharmacokinetic dosing of aminoglycosides on clinical outcome: a cost-effectiveness analysis. Ther Drug Monit. 1999 Feb;21(1):63-73