Help avert a next health crisis with bioMérieux as your partner
Among the many fallouts of the COVID-19 pandemic is a negative impact on Antimicrobial Stewardship (AMS). In the understandably urgent response to this global health crisis, some institutions and healthcare authorities put aside their AMS programs, using antibiotics indiscriminately with COVID-19 patients.
Each November, The World Antimicrobial Awareness Week reminds us of the global health threat that is Antimicrobial Resistance (AMR) and AMS should not take a backburner.
The power of diagnostics for AMS
Simply put, AMS is blind without diagnostic lab results. Diagnostic testing unlocks microorganisms' secrets to support clinical decisions. Lab results also offer essential epidemiological information for monitoring the evolution of infectious agents to curb the growth of resistance bugs – which also have to potential to lead to hard-to-manage outbreaks.
bioMérieux is here to help maximize your lab's AMS impact
With more than 55 years expertise and of experience in microbiology, bioMérieux is uniquely positioned to help labs like yours maximize your AMS impact. We've made it our public health mission to prioritize AMS alongside labs, hospitals and governmental/non-governmental organizations.
Our commitment is seen at many levels; for example, 80% of our clinical R&D targets antimicrobial resistance in support of AMS goals and over three quarters of our products fall into this category. We also participate in numerous public and private programs for awareness and education.
In addition to raising awareness and sharing our expertise, we offer the most comprehensive portfolio of products for resistance management in support of AMS. Our solutions are adaptable and scalable to current and future hospital needs, clearly covering AMR and AMS needs throughout the patient pathway: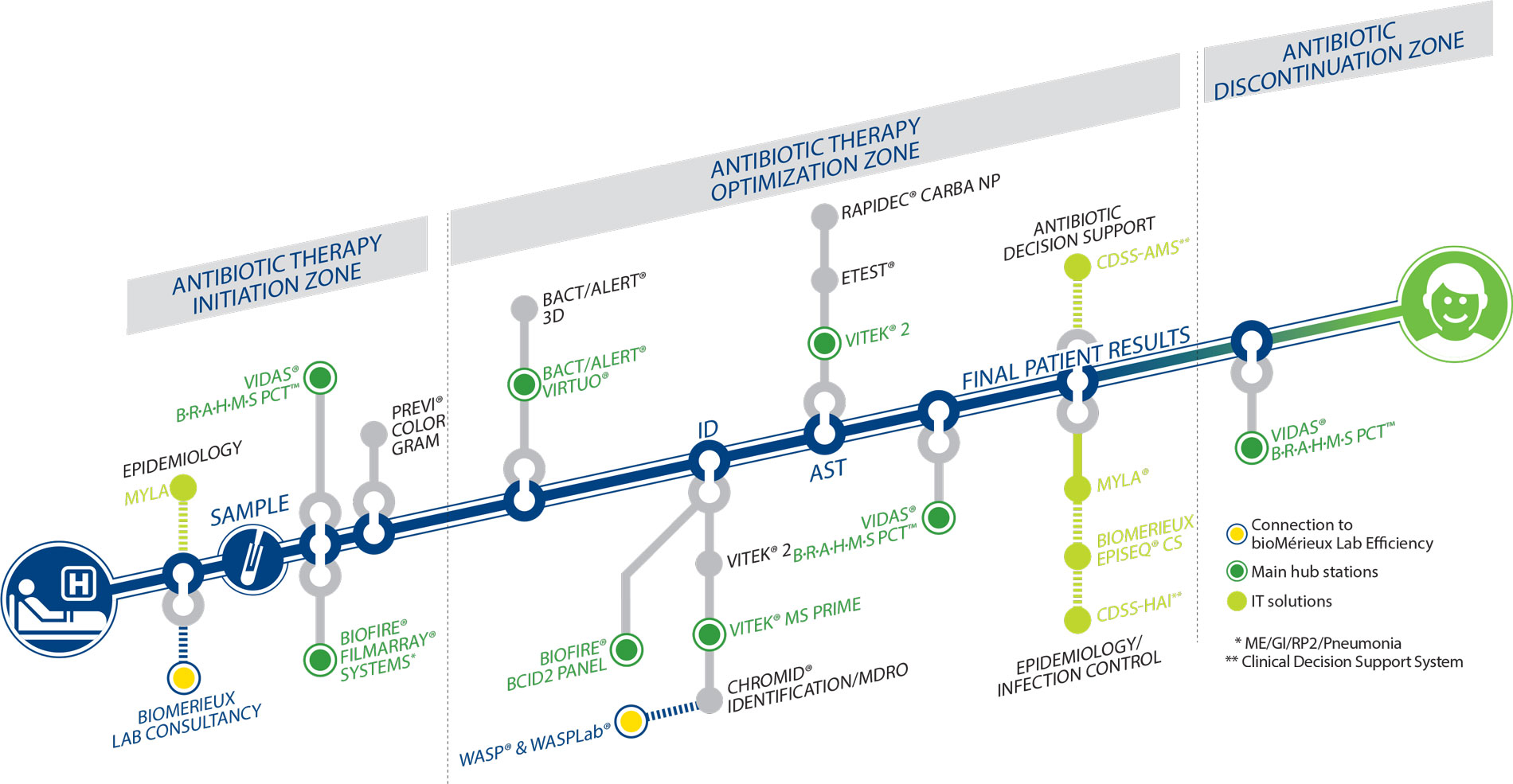 BIOFIRE® FILMARRAY® panels, for syndromic testing with multiplex PCR system
Faster results: Approximately 1 hour for syndromic results of multitude of likely pathogens
Faster initiation of correct treatment: Increased capacity to detect co-infections
Less delay in processing samples: Easy to use by any technician at any time to increase emergency coverage to 24/7
VITEK® 2, an automated identification and antibiotic susceptibility testing analyzer
Same day results: in as little as 5 hours3 with customized reporting possible
Keep pace with pathogen evolution: regular updates of antibiotic breakpoints, and organism phenotypes
VITEK® MS, Mass spectrometry microbial identification system
More specific treatment: Single choice identifications at the species, genus or group level
Rapid results: A few minutes is all it takes
Better discrimination between species: Report results based on a population-built database to cover most of your routine needs
BACT/ALERT® VIRTUO®, an automated instrument for faster blood culture
Fast & actionable results: Gain 4 hours on average1
Avoid unnecessary patient treatment & supplementary testing: Improved sensitivity and specificity2
Real-time notifications: Specific retrieval of positive bottles plus visual and audible alerts
VIDAS® B.R.A.H.M.S PCT™, automated test to determine procalcitonin (PCT), a specific marker of severe bacterial infection and sepsis
Emergency situations: 20-minute results4
Earlier antibiotic therapy: PCT levels detectable 3 – 6 hours after infectious challenge5
Useful therapy information: antibiotic therapy monitoring – continue or stop antibiotics6,7
Proven to be clinically useful for:  Sepsis and LRTI8
MYLA® and lab analytics solutions unlock fresh insights for AMS to positively impact patient outcomes while optimizing operational efficiencies across the continuum of care.
Optimize decision-making & rapidly transmit results
Real-time alerts, multiple view reporting for Infection Control team
Easily consolidate information about organism occurrence & susceptibility
Monitor emerging trends in resistance and perform surveillance with tracking & statistics
Has the COVID-19 pandemic been a wake-up call to the importance of collaborating globally to improve preparedness in the face of healthcare challenges? Let's make it so. Empower your Antimicrobial Stewardship program with fast, reliable and accurate diagnostics.
Deol P. et al. 2016; 26th ECCMID #EVO459
Lovern D., et al. Eur J Clin Microbiol Infect Dis. Dec 2016.
Rommler W., et al. Poster C-123, ASM Orlando, May 2006
Meisner M., et al. J Lab Med 1999;23:263-72
Schuetz P., et al. Crit care Med 2017 ; 45(5):781-789
Bouadma L., et al. Lancet 2010;375: DOI:10.1016/S0140-6736(09)61879-1
De Jong A., et al. The Lancet Infectious Diseases 2016 ; 16(7):819-827
Schuetz P., et al. Arch Intern Med 2011;171:1322-1331