Lab data are valuable if you have time to do the crunching. All too often lab staff already have their time stretched just keeping up with the increasing routine test volumes.
So, how can you gain in data efficiency and ensure your staff are making the most of their time doing added value tasks? That's were MAESTRIA™, comes in!
MAESTRIA™, the next generation microbiology middleware, helps you take advantage of all the data you are generating. It transforms data into smart actionable insights to provide greater clinical impact and better support antimicrobial stewardship.
Connect People, Processes and Technology
MAESTRIA™ allows robust and secure connectivity to bioMérieux equipment for central management of routine testing. By connecting people, processes and technology.
All the information you need is at your fingertips!
Lab results and data are not only collected from various sources, but also consolidated and communicated to stakeholders in real time.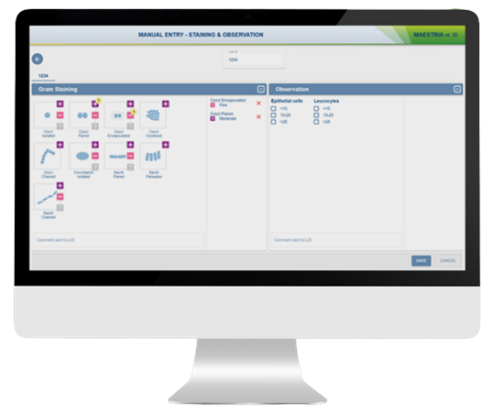 MAESTRIA™ provides fast and secure connection to bioMérieux's main microbiology offer, such as BACT/ALERT® VIRTUO®, VITEK® MS PRIME, ETEST®, VITEK® REVEAL™ and more. By automatically connecting each aspect of your microbiology lab, MAESTRIA™ allows you to focus on what really matters, giving you peace of mind to perform your routine activities.
Data visualization made easy
CLARION™ Lab Analytics is the advanced data visualization that integrates to MAESTRIA™. It allows us to monitor trends in organism occurrence and identify resistance patterns. It also helps your lab performance by easily understanding where bottlenecks are happening in your microbiology workflow.
Streamline your lab operations to gain extra peace of mind with MAESTRIA™
Gain a control tower overview to streamline the lab's analytical workflow
Optimize surveillance reporting
Identify and respond to MDROs with predefined rules to get fast results when time sensitivity is key
Rely on bioMérieux's expertise
MAESTRIA™ leverages on bioMérieux's clinical microbiology expertise of more than 50 years, and more than 10 years' experience in IT solutions, to provide increased lab productivity and valuable insights to clinicians.
The result is an easy-to-use, plug-and-play solution fully adapted to your organization needs.
MAESTRIA™ is a central element in the comprehensive BIOMÉRIEUX VISION SUITE, which helps transform laboratory and institution data into insightful, actionable information to optimize patient management and strengthen your antimicrobial stewardship programs.
How about adopting the latest, best-in-class IT standards to provide the right information to the right people at the right time?