Dr. François Lacoste, Executive Vice President, Clinical Unit, bioMérieux, was recently interviewed by Practical Patient Care, Issue 22, about how bioMérieux supports antimicrobial stewardship through innovations to leverage lab expertise and medical value. Here's a preview of what he shared:
ON… Why the VITEK® MS database must be comprehensive – and ever-expanding
"We have over 1,300 species and more than 40,000 spectra, which highlights the magnitude of the completeness of the database. To keep pace with evolutions and remain clinically relevant this database is constantly improved to include new and emerging pathogens."


ON… VITEK MS V3.2.0, the first CE IVD* database to include the bacteria Brucella and the fungus Candida auris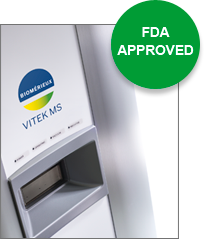 "Candida auris is an emerging pathogen that is responsible for very severe bloodstream infections in patients. Previously, it could be misidentified, and it requires specific treatment – so being able to precisely identify it brings high medical value compared with existing solutions at the moment.
"With this new database, we are also able to provide meaningful information on the Acinetobacter complex, for instance. Different treatments are required for different species of Acinetobacter, so it is an instrumental benefit for the patient to be able to identify the microorganism at the species level more than at the genus level is really of added value."
ON… The value of innovation
"All these innovations, whether databases, gains in efficiency, keeping instruments working, for example, have one aim in mind – equipping healthcare teams to fight against antimicrobial resistance and sustain antibiotics for future generations, illustrating that bioMérieux is committed to serving public health."
*Since the publication of the Practical Patient Care article the database has now also been FDA cleared