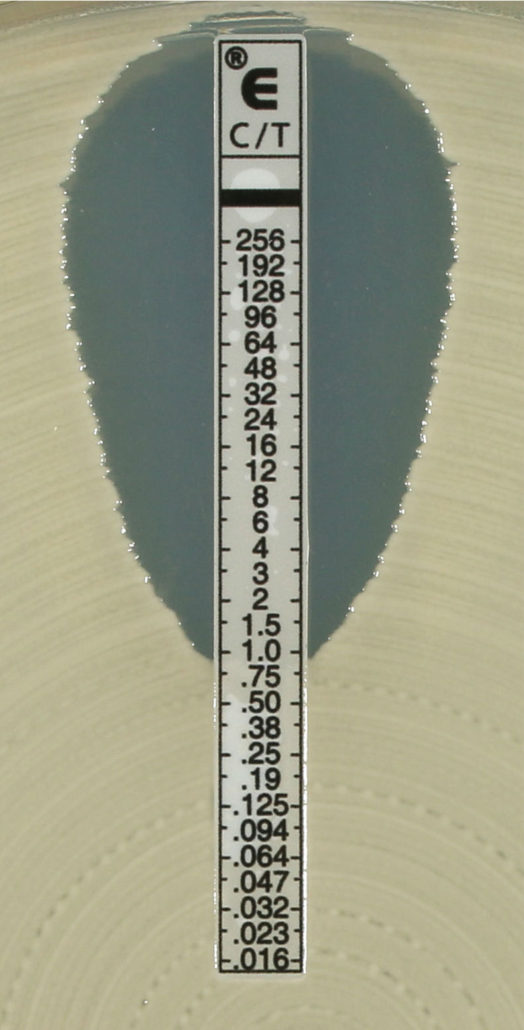 ETEST® Ceftolozane/Tazobactam (C/T 256)* is the new, reliable solution for antibiotic susceptibility testing for ceftolozane tazobactam. Providing exact MICs, it offers highly precise information to help optimize antibiotic therapy with Zerbaxa®, by Merck. Zerbaxa® is indicated for the treatment of adult patients with complicated urinary tract infections (cUTI) including acute pyelonephritis, and, in combination with metronidazole, complicated intraabdominal infections (cIAI).1,2.
A crucial part of antimicrobial stewardship
Multi-drug Resistant Organisms (MDRO), in particular Gram-negative bacteria, pose a critical and growing healthcare threat. Antimicrobial stewardship is vital to improving patient outcomes, preventing resistance development, and preserving the effectiveness of new antimicrobials.
Accurate antimicrobial susceptibility testing helps optimize antimicrobial therapy, making it crucial to both antimicrobial stewardship and improved patient outcomes. The precision of results obtained with ETEST® C/T 256 can help clinicians be confident in their selection of Zerbaxa®.
ETEST® C/T 256: Precision and quality
A more precise picture of susceptibility: Exact MICs for ceftolozane tazobactam for results in between conventional two-fold dilutions (i.e., half dilutions) – more than just the interpretive category (S, I or R)
Rapidity: As little as 16 hours to determine antimicrobial susceptibility of Gram-negative aerobic bacteria1, such as Enterobacteriaceae and P. aeruginosa
Same high quality that bioMérieux's ETEST® range has provided for years
ETEST® C/T 256 is the latest addition to bioMérieux's ETEST® line, the original gradient MIC strips. With a gradient of 15 doubling antimicrobial concentrations, ETEST® determines MIC results, offering greater precision than Kirby-Bauer tests. There is an extensive range of over 95 antimicrobial products including antibiotics, antifungals, and antimicrobial resistance detection tests (ARD). These easy-to-use reagent strips are recognized around the world for proven performance3,4.
* IVD-CE marked. FDA clearance pending.
---
References
David Landman , Simona Bratu , Sandeep Kochar , Monica Panwar , Manoj Trehan , Mehmet Doymaz , and John Quale. Evolution of antimicrobial resistance among Pseudomonas aeruginosa, Acinetobacter baumannii and Klebsiella pneumoniae in Brooklyn, NY. JAC Advance Access published on July 1, 2007, DOI 10.1093/jac/dkm129. J. Antimicrob. Chemother. 60: 78-82.